Video For Fun offers a vast array of media conversion and processing services and is committed to excellence and affordability.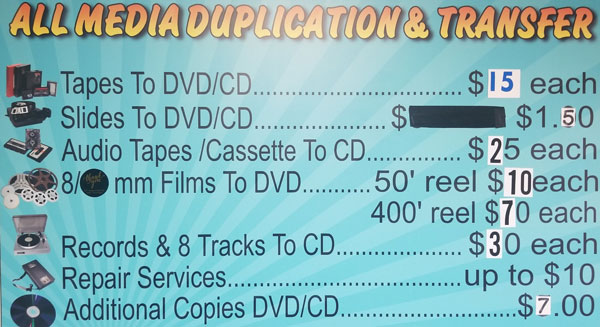 ---
Video Transfer
Escape antiquated and obscure formats.
| | | |
| --- | --- | --- |
| | | We can make copies to and from any of these formats. Pricing will vary due to cost of tape stock, length of video to be transferred, number of copies, etc. Turnaround time for copies is normally 24-72 hours from the time we receive your master tape. We can 'edit out' certain parts of a tape or record only a portion of a tape. |
We can also convert video to CD, DVD & USB (MP4, mpg, avi, mov, wmv, etc.) and can produce video in other foreign TV standards.
---
Transfer Slides to Video
Digitize to preserve memories from the ravages of time.
| | | |
| --- | --- | --- |
| | | With quality improvements in digital imaging technology, transferring slides to video has become very popular! By transferring your slides to CD or DVD you can condense hundreds (or even thousands) of bulky individual slides along with dozens of carousels and boxes onto a space saving disk. |
This is also a great time to finally organize your slides and to get rid of any duplicate slides, out of focus slides, vacation slides that picture only a mountain or beach and may not be as meaningful now and so forth.
---
Transfer 8mm & 16mm Home Movies to Video
Share forgotten home movies with loved ones.
| | | |
| --- | --- | --- |
| | | For most people, it has been a long time since you have seen your old home movie films. Getting the projector and screen set up can be a hassle, and disappointing too, if the projector lamp is burned out or if the projector eats your precious movies. |
Having your films transferred will make viewing them so much easier! Also, film deteriorates over time - and without transferring the film images to another media like DVD or digital video, they will be lost.
---
Transfer Photographs & Negatives to Digital Format
Give meaning and character to old photos.
| | | |
| --- | --- | --- |
| | | Transferring photographs to video has become very popular! These are often referred to as 'photo or video montages'. A montage of special family photos set to music is a very unique gift that will become a treasured heirloom. In addition to photos, we can also transfer newspaper clippings, diplomas, military papers, logos, etc. |
---
Audio Transfer
Listen to the sound of long-lost words and music.
| | | |
| --- | --- | --- |
| | | Have some old 8-Tracks, Reel to Reel or cassette audio tapes you would love to listen to again? How about old record albums or even micro-cassette tapes.... Video for Fun also transfers from Records, 8-Tracks, Reel to Reel, Audio Cassettes and Micro Cassettes to CD's. Video for Fun is fast, convenient and very economically priced. Call us today! |