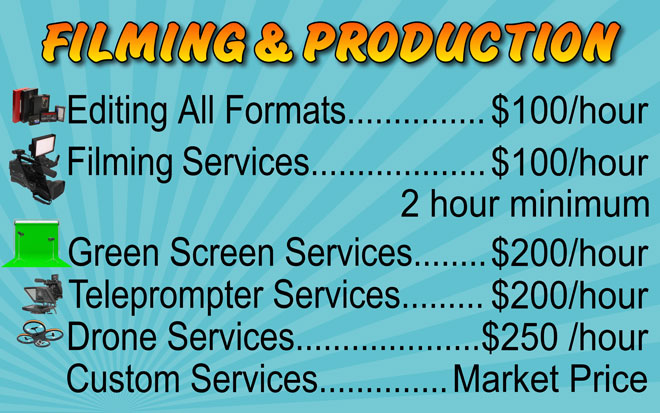 ---
High Definition Video Services
Decide on unparalleled clarity.
Our video production employs state of the art high definition equipment and technology.
---
Video Production Services
Impress your audience for years to come with first-class production quality.
Video For Fun is a full service, professional video production company that can help guide a client from concept to shooting, editing and duplication. Whether you are looking for Professional Video, Broadcast or High Definition, we are very budget-minded and can work within the parameters given by our clients.
In addition to providing turnkey productions, we also provide professional on-location production services. From weddings, birthdays, and children's events to professional video documentation and deposition filming, we do it all. Send us an email for instant pricing.
---
Teleprompter Services
Quality with a touch of class.
When your professional success demands clarity and unbroken focus, you can't afford mishaps. Rely on Video For Fun's two decades of expertise to ensure that your presentation runs smoothly, and let our top tier professionalism help you showcase your own.
---
Voiceover Services
Create a classic with rich voiceover.
Voiceover quality makes all the difference in how your production is received by its prospective audience. Our voiceover specialists are happy to lend a radio broadcaster's quality and style to your production.
---
Aerial & Drone Services
Take your video sky high!
Aerial video services are being used for every avenue of life including real estate, concerts, family gatherings ... you name it! Let us create an aerial video for you!
---
Green Screen Services